Sexy Red Lingerie.
Because everyone seems to love sexy red lingerie we decided that we would put Nelly Ochoa in a set and see how she looked. Clearly we chose the right color for her skin tones. We also chose the right lingerie for her body.
You can see how amazing her tits look in the top of the lingerie. Showing the top round portion of each tit out the top of the blouse. Then you can see her nippels through the cloth leaving it to look super sexy. Now we have to admit that panties were a little smaller than we expected. Knowing that Nelly is Hung we got a bigger pair of panties for the lingerie set. Sadly as you can see we underestimated and her cock makes those panties look packed full of cock. Trust us when we say that the panties are packed. She actually rolled her cock down to get it inside and that did not last long! Click now to see more of this photo set and the movie of Nelly stroking her monster cock.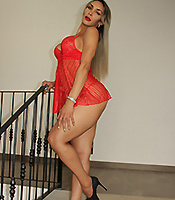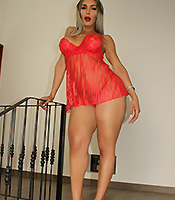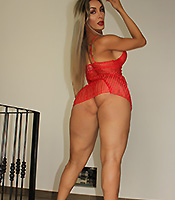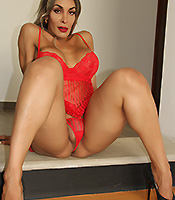 Do not wait to see her monster cock swing free of those sexy red panties and her Sexy red lingerie.